18 Jun

Challenging Spaces that Became Our Favourite Home Staging Jobs
After years of working as a professional home stager in the Greater Toronto area, there are some spaces that were extra challenging in the initial design planning, but soon became our favourites. Just goes to show, that every home, no matter how small, awkward in layout or feeling a little lack lustre, can emerge a well loved space that makes you feel good in, and when selling helps buyers to appreciate it more!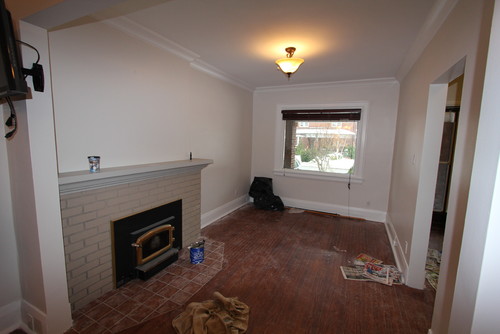 We loved this cute semi in High Park Toronto, but the first impression room, this living room, felt very small and awkward.
Actually it is one of the smallest living rooms we have staged. Only 8'8″ wide, with opening from the hall and also to the dining room,
and an off centred fireplace, we had our work cut out for us to create a space that felt larger and buyers could envision themselves entertaining in.
We can't change the foot print, but we created a layout that worked functionally and made the room feel larger.  With properly scaled furnishings, layers of lighting, and a mirror to bring outdoor light further in the room~ this space now feels bright, open and inviting.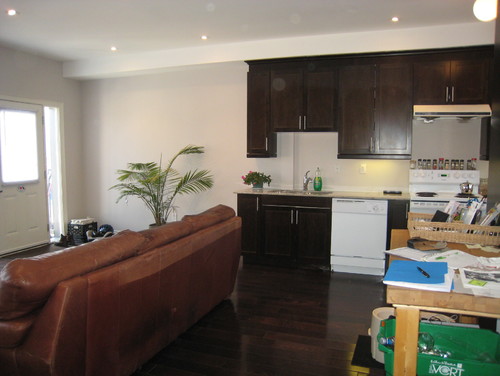 Open concept floor plans are highly desired, but can leave people perplexed with how to arrange furniture.
When we viewed this Toronto townhome there was a couch and television and it did not appear to have space for much else.
Entry from front door, stair case to basement and upstairs, as well as back door~ made this open concept space challenging for flow and functionality.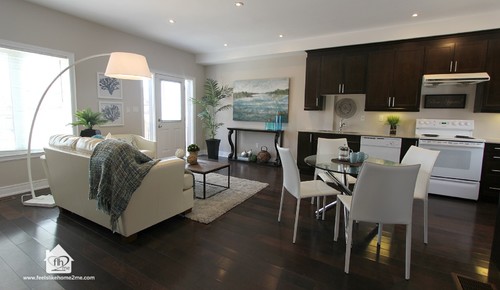 We staged this with a dining space and living space that worked with the flow to all the entries of this open concept space. Rearranging the focal point opened the room right up.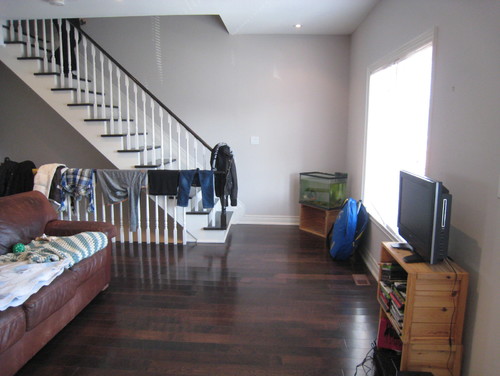 Here is the other side of this space, showing the stair cases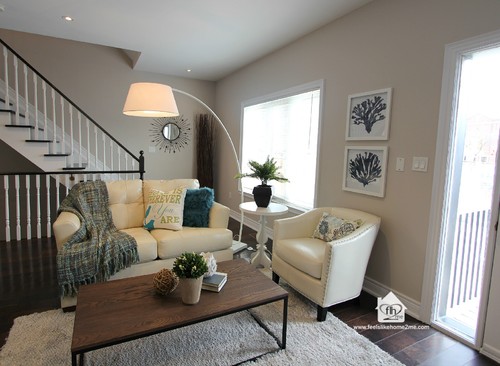 Creating a small back drop by the stair case, helped to extend the feeling of space in this room.
When walking through the front door, this living room was on the immediate left, opening to an office (see room with sliding door) and to the right the dining room.  This space felt small and awkward with all the different flow through areas surrounding it.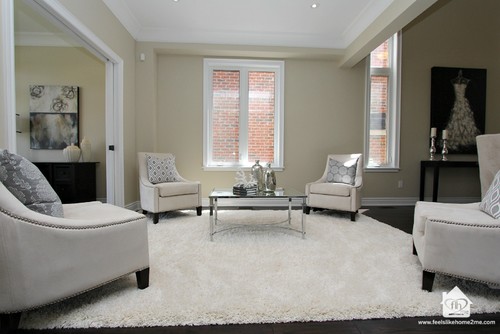 Keeping the flow was essential, with this arrangement of four comfortable chairs, we now have a living room space where people can envision themselves having a drink after a dinner party.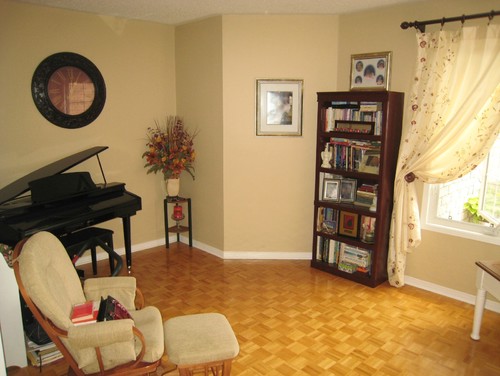 Again, the first impression living room, which is so important for selling. This one was well suited for the sellers, but we had to come up with a plan to work with this small awkward space for selling.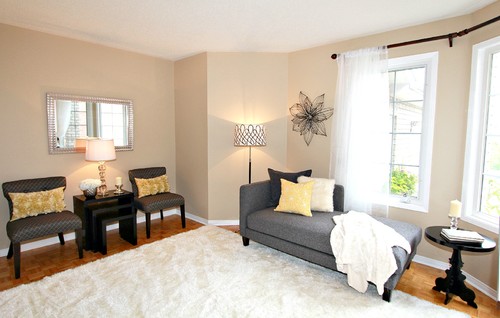 We did not want to block the view of the gorgeous garden by the front windows (great selling feature for this particular house), and the space was too small for a couch~ so we created a relaxing room to read a book or hang out it in, with a comfortable chaise lounger and additional seating.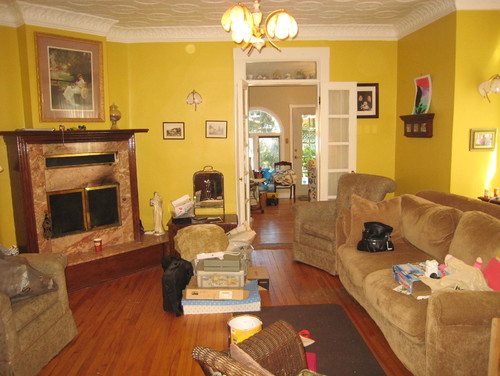 When we toured this century home, the room off the kitchen was being used as a living room. It felt cramped and awkward with three openings and large furniture.
Updating the paint colours, lighting and turning this into a dining space transformed it into a large inviting place to have family celebrations.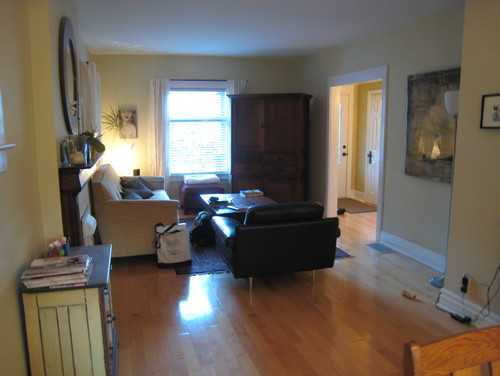 Lastly, here is a beautiful home in High Park Toronto that we just loved! The first impression living room,
with the entry off the front hall, off centred fire place and tight space opening to dining room, made this a challenging space for furniture arrangement.
We elongated the space with a new layout of properly scaled furniture pieces. Now there is actually more room to entertain and the flow is unobstructed.  Again adding more lighting helps to make the space feel more open and inviting.
It is amazing how spaces that first present difficult, when you put the work into carefully designing, can become ones that you appreciate the most!  If you have a property that you are about to sell or are selling that buyers may have a tough time envisioning what to do with space, layout, functionality, give us a call 416-669-2335
_________________________________________________________________________________________________________________________
Ginny Truyens, from Feels Like Home 2 Me is a Toronto Home Staging professional who loves helping her clients get a high return on their largest financial investment.  Designing spaces that potential buyers will "Feel Like Home" to them, is essential in selling a property in today's competitive real estate market.    To book a consultation, or to find out more about Feels Like Home 2 Me,  visit us @  www.FeelsLikeHome2Me.com or call us 416-669-2335
Please follow and like us: